Kat has been knitting for herself and family for many years. Her love of colour and texture is clear in these examples. You can now own a jersey just like this!
Kat is now working in collaboration with Rosie to produce made-to-order knitwear. Rosie is an enthusiastic and skilful knitter with a lifetime of experience. She is founder and owner of Bridport Yarn, a shop crammed with beautiful and unusual knitting yarns.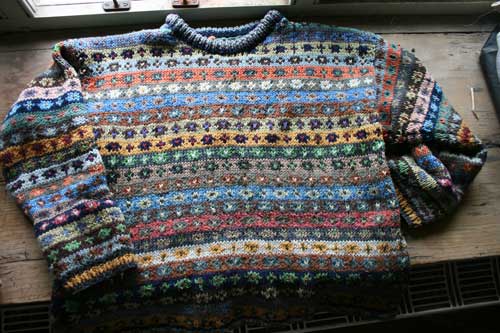 The Design Process (knitwear)
We will work with you to create your own unique hand-knitted jersey in wool, cotton, linen or silk.
Choose the shape and size you would like
Select the design
Choose your yarns: weight/thickness and colour palette. We like to use LOTS of colours
We will give you a price, approximately £250 for a sleeveless garment, £400-750 for a jersey with sleeves
Rosie will knit the garment in 2-3 months
Contact us to start today.